Vertical Machining Centres
5-Axis Machining Centers
Slant Bed Turning Centers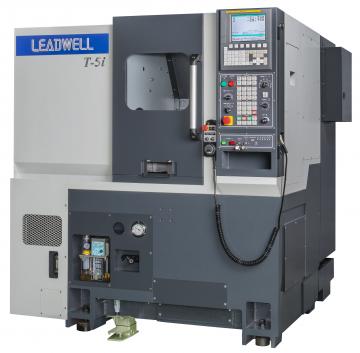 T-5i
Available as Gang Type or Turret Type high speed linear way turning center
Available with Siemens 828D Basic or Fanuc Oi control systems
True One-piece Cast Iron Construction
High Precision Cartridge Type Spindle for easy servicing
LEADWELL uses only premium quality preloaded double-nut ball screws
Available with or without Tailstock 
C-axis with Live tool turret available as an option
Sub-Spindle configuration available as an option
High Speed Linear Motion Guides - All servo motor driven axes are mounted on precision linear bearings, which ride on hardened steel ways. These precision guideways require no adjustment, and the servo motors consume less power
The automatic tool setter is an option on T/LTC series machines
LEADWELL unique parts catcher improves productivity with bar feeder option. It automatically rotates into to position under the finished part and transfers it outside the operator door.
LEADWELL offers two options that turn their CNC lathes into make a multi-process turning center. These options provide the benefits of a lathe, plus extra versatility of a machining center.
Powerful, compact, mass production turning center with a number of references in South Africa
Brochure
Brochure

T-5 New.pdf
Specifications
Specifications
| | |
| --- | --- |
| Capacity  | 330mm |
| Bar Capacity | 35mm |
| Chuck size | 6inch |
| X axis | 230mm |
| Z axis | 105+20mm |
| Spindle speed | 45-4500rpm |
| Hole through spindle | 62mm |
| Number of tool positions | 12 |
| X rapid traverse     | 20m/min |
| Z rapid traverse | 24m/min |
| Spindle Motor | 15HP |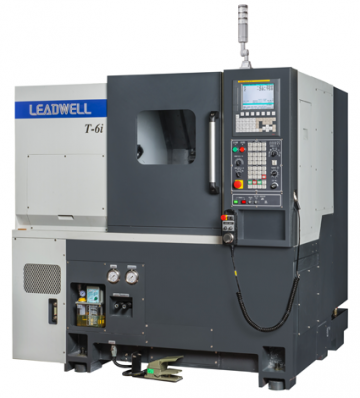 T-6A
Most popular size compact Linear Way Turning Center, available with Siemens 828D or Fanuc Oi 
A2-5 / 52mm Bar Capacity with 6" or 8" chuck
True One Piece Cast Iron Construction
36m/min Rapid Traverse 
Cartridge Type Spindle for easy servicing 
LEADWELL uses only premium quality preloaded double-nut ball screws
The heavy-duty tailstock is attached to the lower guide of the machine base. The heavy casting, large diameter quill and precision Morse taper center provide outstanding rigidity
High Speed Linear Motion Guides - All servo motor driven axes are mounted on precision linear bearings, which ride on hardened steel ways. These precision guideways require no adjustment, and the servo motors consume less power
The automatic tool setter is an option on T series machines
Hydraulic or Servo Type Turret available with 20 x 20mm Tooling 
LEADWELL unique parts catcher improves productivity with bar feeder option. It automatically rotates into to position under the finished part and transfers it outside the operator door.
LEADWELL offers two options that turn their CNC lathes into make a multi-process turning center. These options provide the benefits of a lathe, plus extra versatility of a machining center.
Sub-Spindle Option
C-axis with Live Tooling Option
Available ex-stock (Subject to Prior Sale ) 
Specifications
Specifications
| | |
| --- | --- |
| Max swing | 500mm |
| Bar capacity | 51mm |
| X axis | 190+20mm |
| Z axis | 460mm, 460mm |
| Spindle speeds range | 6000rpm |
| Chuck size | 152in |
T-7A
High Speed, Powerful compact turning center available with Siemens or Fanuc 
A2-6 / 65mm Bar Capacity with 8" or 10" chuck
True One Piece Cast Iron Construction
36m/min Rapid Traverse 
Cartridge Type Spindle for easy servicing 
LEADWELL uses only premium quality preloaded double-nut ball screws
The heavy-duty tailstock is attached to the lower guide of the machine base. The heavy casting, large diameter quill and precision Morse taper center provide outstanding rigidity
High Speed Linear Motion Guides - All servo motor driven axes are mounted on precision linear bearings, which ride on hardened steel ways. These precision guideways require no adjustment, and the servo motors consume less power
The automatic tool setter is an option on T series machines
Hydraulic or Servo Type turret available with 25 x 25mm Tooling 
LEADWELL unique parts catcher improves productivity with bar feeder option. It automatically rotates into to position under the finished part and transfers it outside the operator door.
LEADWELL offers two options that turn their CNC lathes into make a multi-process turning center. These options provide the benefits of a lathe, plus extra versatility of a machining center.
Sub-Spindle Option
C-axis with Live Tooling Option
Available ex-stock (Subject to Prior Sale )
Specifications
Specifications
| | |
| --- | --- |
| Max swing | 500mm |
| Bar capacity | 65mm |
| X axis | 190+20mm |
| Z axis | 450mm |
| Spindle speeds range | 4000rpm |
| Chuck size | 203in |
T-8XL
Largest Linear Way Model from Leadwell with Powerful Motor configuration
Available with a 1050mm Turning Length 
A2-8 / 85mm Bar Capacity with 10" or 12" chuck
Option of 101mm Bar Capacity with ZF Gear Box and 1" chuck available
True One Piece Cast Iron Construction
36m/min Rapid Traverse 
Cartridge Type Spindle for easy servicing 
LEADWELL uses only premium quality preloaded double-nut ball screws
The heavy-duty tailstock is attached to the lower guide of the machine base. The heavy casting, large diameter quill and precision Morse taper center provide outstanding rigidity
High Speed Linear Motion Guides - All servo motor driven axes are mounted on precision linear bearings, which ride on hardened steel ways. These precision guideways require no adjustment, and the servo motors consume less power
The automatic tool setter and programmable Tailstock is an option on T series machines
Hydraulic or Servo Type turret  
LEADWELL unique parts catcher improves productivity with bar feeder option. It automatically rotates into to position under the finished part and transfers it outside the operator door.
LEADWELL offers two options that turn their CNC lathes into make a multi-process turning center. These options provide the benefits of a lathe, plus extra versatility of a machining center.
Sub-Spindle Option
C-axis with Live Tooling Option
Available ex-stock (Subject to Prior Sale )
Specifications
Specifications
| | |
| --- | --- |
| Max. swing | 670mm |
| Bar capacity | 77mm |
| X axis | 225+25mm |
| Z axis | 1050mm |
| Spindle speeds range | 3500rpm |
| Chuck size | 254mm |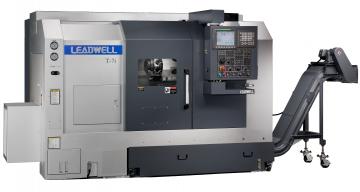 T-7i
High Precision compact turning center available with Siemens or Fanuc 
A2-6 / 65mm Bar Capacity with 8" or 10" chuck
True One Piece Cast Iron Construction
Servo Type Turret as standard.
36m/min Rapid Traverse 
Cartridge Type Spindle for easy servicing 
LEADWELL uses only premium quality preloaded double-nut ball screws
The heavy-duty tailstock is attached to the lower guide of the machine base. The heavy casting, large diameter quill and precision Morse taper center provide outstanding rigidity
High Speed Linear Motion Guides - All servo motor driven axes are mounted on precision linear bearings, which ride on hardened steel ways. These precision guideways require no adjustment, and the servo motors consume less power
The automatic tool setter is an option on T series machines 
LEADWELL unique parts catcher improves productivity with bar feeder option. It automatically rotates into to position under the finished part and transfers it outside the operator door.
LEADWELL offers two options that turn their CNC lathes into make a multi-process turning center. These options provide the benefits of a lathe, plus extra versatility of a machining center.
Sub-Spindle Option
C-axis with Live Tooling Option
Available ex-stock (Subject to Prior Sale )
Specifications
Specifications
| | |
| --- | --- |
| Max swing | 520mm |
| Bar capacity | 66mm |
| X axis | 210+10mm |
| Z axis | 540mm |
| Spindle speeds range | 4500rpm |
| Spindle Chuck size | A2-6/8" |
| Turret | 12 |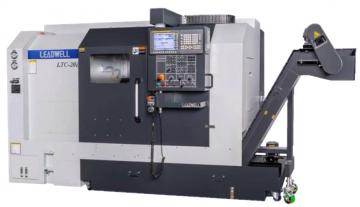 LTC-20
Heavy Duty Turret - The T/LTC series turret features a robust casting and a large coupling face adding extra rigidity to the machine
Cast Iron Construction
Cartridge Type Spindle
LEADWELL uses only premium quality preloaded double-nut ball screws
The heavy-duty tailstock is attached to the lower guide of the machine base. The heavy casting, large diameter quill and precision Morse taper center provide outstanding rigidity
High Speed Linear Motion Guides - All servo motor driven axes are mounted on precision linear bearings, which ride on hardened steel ways. These precision guideways require no adjustment, and the servo motors consume less power
The automatic tool setter is an option on T/LTC series machines
LEADWELL unique parts catcher improves productivity with bar feeder option. It automatically rotates into to position under the finished part and transfers it outside the operator door.
LEADWELL offers two options that turn their CNC lathes into make a multi-process turning center. These options provide the benefits of a lathe, plus extra versatility of a machining center.
Sub-Spindle Option
Live Tooling Option
C-Axis Option
Specifications
Specifications
| | |
| --- | --- |
| Max swing | 450/500/450/540mm |
| Bar capacity  | 65/65/65/65mm |
| X axis | 160+10/190+20/160+10/160+20mm |
| Z axis | 540/540/540/540mm |
| Spindle speeds range | 4000/4000/4000/4000mm |
| Chuck size | 8/8/8/8mm |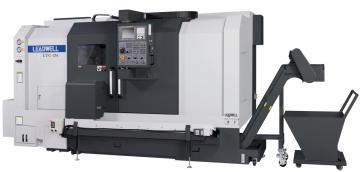 LTC-25
Heavy Duty Turret - The T/LTC series turret features a robust casting and a large coupling face adding extra rigidity to the machine
Cast Iron Construction
Cartridge Type Spindle
LEADWELL uses only premium quality preloaded double-nut ball screws
The heavy-duty tailstock is attached to the lower guide of the machine base. The heavy casting, large diameter quill and precision Morse taper center provide outstanding rigidity
High Speed Linear Motion Guides - All servo motor driven axes are mounted on precision linear bearings, which ride on hardened steel ways. These precision guideways require no adjustment, and the servo motors consume less power
The automatic tool setter is an option on T/LTC series machines
LEADWELL unique parts catcher improves productivity with bar feeder option. It automatically rotates into to position under the finished part and transfers it outside the operator door.
LEADWELL offers two options that turn their CNC lathes into make a multi-process turning center. These options provide the benefits of a lathe, plus extra versatility of a machining center.
Sub-Spindle Option
Live Tooling Option
C-Axis Option
Specifications
Specifications
| | |
| --- | --- |
| Max swing     | 637mm |
| Bar capacity  | 77mm |
| X axis | 225+15mm |
| Z axis | 790/1050/1550/2050mm |
| Spindle speeds range | 3500rpm |
| Chuck size | 254mm |
LTC-35
Heavy Duty Turret - The T/LTC series turret features a robust casting and a large coupling face adding extra rigidity to the machine
Cast Iron Construction
Cartridge Type Spindle
LEADWELL uses only premium quality preloaded double-nut ball screws
The heavy-duty tailstock is attached to the lower guide of the machine base. The heavy casting, large diameter quill and precision Morse taper center provide outstanding rigidity
High Speed Linear Motion Guides - All servo motor driven axes are mounted on precision linear bearings, which ride on hardened steel ways. These precision guideways require no adjustment, and the servo motors consume less power
The automatic tool setter is an option on T/LTC series machines
LEADWELL unique parts catcher improves productivity with bar feeder option. It automatically rotates into to position under the finished part and transfers it outside the operator door.
LEADWELL offers two options that turn their CNC lathes into make a multi-process turning center. These options provide the benefits of a lathe, plus extra versatility of a machining center.
Sub-Spindle Option
Live Tooling Option
C-Axis Option
Specifications
Specifications
| | |
| --- | --- |
| Max. swing | 800mm |
| Bar capacity | 115mm |
| X axis travel  | 300+20mm/344+10mm/215+25 |
| Z axis travel | 1100/1600/2100/3100/4100mm |
| Spindle speed | 2000rpm |
| Chuck size | 382mm |
LTC-50
Heavy Duty Turret - The T/LTC series turret features a robust casting and a large coupling face adding extra rigidity to the machine
Cast Iron Construction
Cartridge Type Spindle
LEADWELL uses only premium quality preloaded double-nut ball screws
The heavy-duty tailstock is attached to the lower guide of the machine base. The heavy casting, large diameter quill and precision Morse taper center provide outstanding rigidity
High Speed Linear Motion Guides - All servo motor driven axes are mounted on precision linear bearings, which ride on hardened steel ways. These precision guideways require no adjustment, and the servo motors consume less power
The automatic tool setter is an option on T/LTC series machines
LEADWELL unique parts catcher improves productivity with bar feeder option. It automatically rotates into to position under the finished part and transfers it outside the operator door.
LEADWELL offers two options that turn their CNC lathes into make a multi-process turning center. These options provide the benefits of a lathe, plus extra versatility of a machining center.
Sub-Spindle Option
Live Tooling Option
C-Axis Option
Specifications
Specifications
| | |
| --- | --- |
| Max swing | 900/900/850/850mm |
| Bar capacity | 117mm |
| X axis   | 400+25mm |
| Z axis | 1100/2100/3100/4100mm |
| Spindle speeds range | 1500rpm |
| Chuck size | 381mm/457mm |

LTC60
Heavy Duty Turret - The T/LTC series turret features a robust casting and a large coupling face adding extra rigidity to the machine
Cast Iron Construction
Cartridge Type Spindle
LEADWELL uses only premium quality preloaded double-nut ball screws
The heavy-duty tailstock is attached to the lower guide of the machine base. The heavy casting, large diameter quill and precision Morse taper center provide outstanding rigidity
High Speed Linear Motion Guides - All servo motor driven axes are mounted on precision linear bearings, which ride on hardened steel ways. These precision guideways require no adjustment, and the servo motors consume less power
The automatic tool setter is an option on T/LTC series machines
LEADWELL unique parts catcher improves productivity with bar feeder option. It automatically rotates into to position under the finished part and transfers it outside the operator door.
LEADWELL offers two options that turn their CNC lathes into make a multi-process turning center. These options provide the benefits of a lathe, plus extra versatility of a machining center.
Sub-Spindle Option
Live Tooling Option
C-Axis Option
Specifications
Specifications
| | |
| --- | --- |
| Max. swing | 1020mm |
| Bar capacity | 117mm |
| X axis travel | 400+28/437+18/VDI 60430+25/BMT 75320+10mm |
| Z axis travel | 5000/6000mm |
| Y axis travel | ±100mm |
| Spindle speed | 1500rpm |
| Chuck size  | 533mm |
Multi Tasking Turning Center
TM 1500
Features
The multi-function machine with B-axis can easy have bevel angle drilling and cutting work.
The B-axis is driven by DD build-in motor, the best torque is 1200Nm, and with curved coupling it can easy do a heavy cutting job shop work and also curved surface milling.
The machine use special Electro Spindle, the spindle speed can reach 12000rpm and torque 103Nm, it is a special machine can do first mill and end mill in the same machine.
The Y-axis design is perpendicular type, and match with our moving column machine structure, the Y-axis have complete movement.  It will not have dead space for the travel. (Y-axis travel +/-220mm).(applying for patent now.)
12"chuck (C-axis) + servo tailstock (M.T #5) + 40 tools ATC (Capto C6) + 1550mm Z-axis travel + B-axis (-100°~+140°)=Perfect machine.
Specifications
Specifications
| | |
| --- | --- |
| Max. swing                    mm (in)         | 790(31) |
| Max. turning diameter     mm (in)         | 780(30.7) |
| Bar capacity                  mm (in)     | 115(4.5) |
| X/Z/Y axis travel            mm (in)     | 730+40(28.7+1.57)/1550(61)/±200(7.87) |
| B axis travel mm (in)      mm (in)     | 240゜(-10゜~+230゜) |
| Spindle speed (chuck/electro)    rpm | 1500/12000 |
| Chuck size    mm (in)         | 381(15) |
| Type of spindle nose     | A2-11 |
| Spindle motor power    Kw(hp) | 30(40) |
| Tool storage capacity     | 40 |
| X/Z/Y axis rapid traverse    m/min(imp) | 20/30/20(787.4/1181/787.4) |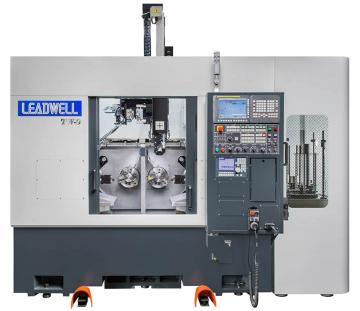 TW 8
Features
Twin Spindle & Turret Turning Center
Specifications
Specifications
| | |
| --- | --- |
| Max. swing                mm (in) | 290(11.42) |
| Max. turning diameter mm (in) | 290(11.42) |
| Max. turning length     mm (in) | 160(6.3) |
| X axis travel               mm (in) | 145+10(8.86+0.59) |
| Z axis travel               mm (in) | 165(31.1) |
| Spindle speed             rpm. | 4500 |
| Chuck size                 mm (in) | 210(8) |
|   |   |
|   |   |
|   |   |