Video Measuring
Starrett MV300 Video Measuring System
The Galileo MV 300 system is a general-purpose manual video based measurement system, ideal for quality assurance and inspection labs, and manufacturing, assembly and research facilities.
A precision mechanical bearing X-Y-Z stage and column translates data accurately and repeatedly to the Metlogix M3 touchscreen measuring solution.
Specifications
Specifications
| | |
| --- | --- |
| X/Y/Z Measuring Range | 300x150x125mm |
| X/Y Accuracy in µm | E1=3.5+5L/1000 |
| Z accuracy in µm | E1=2.5+5L/1000 |
| Control System / Software | Metlogix M3 |
| Zoom Optics | 6.5:1 |
| S Video Colour Camera  | Supplied as standard |
| Surface Ring Illumination | LED or Fi-O |
| Transmitted Illumination | Supplied as on option |
| Coaxial Illumination | Supplied as on option |
| Dark Field Quadrant Illumination | .5x, 2.0X |
| Auxiliary Lenses (Optional) | Supplied as an option |
| Workstation  | Supplied as an option |
| Video Pixel Calibration Standards | Supplied as an option |
| Calibration Standards | Supplied as an option |
Shadow Graph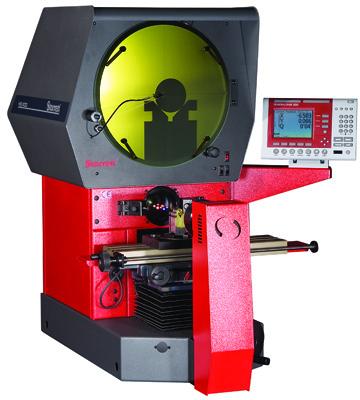 HB400 Horizontal Benchtop Optical Comparator
Features & Specifications
Available with a choice of a MetLogix M2 or several Quadra-Chek control systems
Distinctive new styling
Fully usable 400mm screen diameter
Large measuring travel: 300mm X-axis, 150mm Y-axis
Exceptionally stable, all metal construction for optimum performance and accuracy
High precision workstage with 540mmx127mm top plate, with two machine slots for easy fixturing
Stage weight capacity: 100 lbs
Quick action change lens system
5x, 20x, 25x, 31.25x and 50x lenses available
Dual mirror design for vertically correct image
Digital protractor for accurate angle measurements, 1' resolution
±15° workstage helix adjustment for accurate thread form inspection
Fine adjustment on all axes, plus zero backlash, fast traverse mechanism on the X-axis
Fully retractable fiber optic surface illumination with heavy-duty shielding
Automatic edge detection option
Motorized and CNC workstage options
Optional OV2 quick change video camera with up to 200x magnification text
VF600 Vertical Floor Standing Optical Projector
Fully usable 600mm diameter screen.
Screen angled at an optimum 30° to give bright, easily viewed image, and allowing easy tracing or overlay work.
Choice of two workstage size options with manual, motorised or CNC control.
Fast traverse, quick release mechanism on X and Y Axis.
Supplied complete with full canopy and curtains.
Single lens mount or 3-lens quick change turret using silo system for maximum lens protection.
Available with the full range of Quadra-Chek readout systems.
Electronic digital protractor.
Comprehensive range of multi-element precision ground lenses.
4Large range of accessories available.
4Lamp mounted helix facility.
Specifications
Specifications
Screen Diameter: 600mm with precision cross lines, calibration markings and overlay clips.
Workstage: Top plate - 400mmx225mm, Measuring Travel: 200mmx100mm
Workstage Capacity: 30kg maximum (Evenly distributed)
Illumination: Profile - Fan cooled, 150w halogen with yellow/green filter, Surface - Fan cooled 100w lamp/fibre optic system.
Measurement/display systems: Linear - Heidenhain scales (0.001mm resolution). Simple DRO or Quadra-Chek readout systems with edge sensing option. Angle - Digital protractor (1 minute resolution). Quadra-Chek Q-Axis.
Lenses: x10, x20, x25, x 311/4, x50, x100 (x5 to special order)
Power Supply: 110/120/230/240/250V.AC50/60Hz, consumption 5A.