A Coordinate Measuring Machine (CMM) is a device used for measuring the geometric characteristics of an object. CMM's are either controlled manually by an operator or via computer. Measurements are defined by a probe attached to the third moving axis of this machine. Probes may be mechanical, optical, laser, or white light, amongst others. A machine which takes readings in six degrees of freedom and displays these readings in mathematical form is known as a CMM.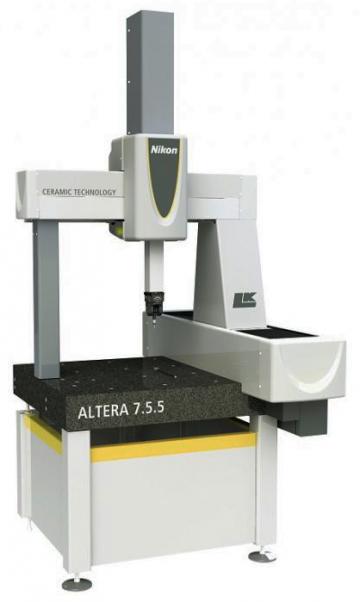 Altera CMM
Nikon Metrology's range of premium quality ALTERA CMM's have been refined to meet the varying needs of manufacturers, both now and in the future.
Advanced multi-sensor ready technology optimizes CMM throughput and provides the opportunity to broaden the application scope to new materials and components as customer needs change, without additional wiring or controllers.
Innovative work-flows and intuitive software features make light work of complex inspection tasks, while boosting CMM productivity and providing manufacturers with a clear and efficient understanding of product conformance.
The superior ceramic design, with near perfect stiffness-to-weight ratio and greater resistance to temperature shifts, provides exceptional and enduring performance across all manufacturing environments. As a result, Nikon Metrology is the only CMM manufacture to guarantee the original accuracy specification of its CMMs for a period of 10 years†.
Benefits
Best-in-class performance
Future proof multi-sensor capability
Suitable for any production environment
Unique 10 year original accuracy guarantee
Brochure
Brochure

Altera_ENG.pdf
Specifications
Specifications
| | |
| --- | --- |
| Altera 7.5.5 |   |
| Overall  |   |
| L | 1573mm |
| W | 1257mm |
| H | 2505mm |
|   |   |
| Travel  |   |
| X | 711mm |
| Y | 508mm |
| Z | 508mm |
|   |   |
| Clearance  |   |
| CY | 709mm |
| CZ | 624mm |
|   |   |
| Table  |   |
| TT | 150 |
|   |   |
| Inserts |   |
| HX | 95mm |
| HY | 232mm |
|   |   |
| Max.Load  | 256Kg |
| Max Weight  | 637Kg |
|   |   |
|   |   |
| | |
| --- | --- |
| Altera 10.7.6 |   |
| Overall  |   |
| L | 1876mm |
| W | 1460mm |
| H | 2705mm |
|   |   |
| Travel  |   |
| X | 1016mm |
| Y | 711mm |
| Z | 610mm |
|   |   |
| Clearance  |   |
| CY | 910 |
| CZ | 724 |
|   |   |
| Table |   |
| TT | 175 |
|   |   |
| Inserts |   |
| HX | 121.5 |
| HY | 185 |
|   |   |
| Max.Load  | 514 Kg |
| Machine Weight | 1029 Kg |
|   |   |
|   |   |
| | |
| --- | --- |
| Altera 15.10.8 |   |
| Overall  |   |
| L | 2384mm |
| W | 1765mm |
| H | 2985mm |
|   |   |
| Axis Stroke |   |
| X | 1524mm |
| Y | 1016mm |
| Z | 813mm |
|   |   |
|   |   |
| Workpiece Max. Weight | 1380Kg |
| CMM Weight | 2289Kg |
|   |   |
| | |
| --- | --- |
| Altera 40.15.15 |   |
| Overall  |   |
| L | 5452mm |
| W | 2595mm |
| H | 4575mm |
|   |   |
| Travels |   |
| X | 4064mm |
| Y | 1524mm |
| Z | 1524mm |
|   |   |
| Granite Table |   |
| TX | 4380mm |
| TT | 550mm |
| TH | 760mm |
| HX | 190mm |
| HY | 285mm |
|   |   |
| Floor |   |
| F | 205mm |
|   |   |
| Table Loading |   |
| Std. | 4194mm |
| Max.  | 4600mm |
|   |   |
| CMM Weight | 14913 Kg |
|   |   |
|   |   |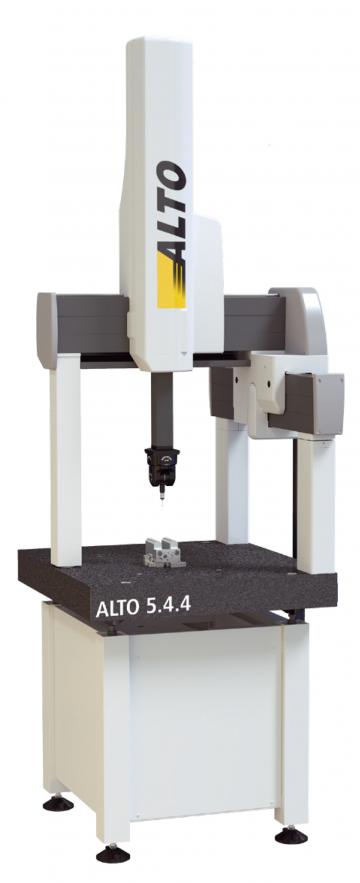 ALTO
Features
Easy-to-learn user interface and workflow
Efficient Click-&-Measure inspection routines
Walk-in metrology for quick dimensional checks
Virtual simulation and real-time path verification
DMIS part program support
Specifications
Specifications
| | |
| --- | --- |
|  Alto 5.4.4 |   |
| Measuring Stroke |   |
| X | 500mm |
| Y | 400mm |
| Z | 440mm |
|   |   |
| Overall Dimension |   |
| Width  | 929 mm |
| Length  | 888 mm |
| Height | 2411mm |
|   |   |
| Weight |   |
| Max.part | 300Kg |
| Machine | 300Kg |
|   |   |
|   |   |
| | |
| --- | --- |
|  Alto 6.5.4 |   |
| Measuring Stroke |   |
| X | 600mm |
| Y | 500mm |
| Z | 440mm |
|   |   |
| Overall Dimension |   |
| Width  | 1044mm |
| Length  | 1018mm |
| Height  | 2411mm |
|   |   |
| Weigth  |   |
| Max.part  | 300Kg |
| Machine  | 390Kg |
|   |   |
|   |   |