WD Hearn offers a range of Portable Measuring systems including the Nikon MMDx scanning head, MCAx Articualated measuring arm, and K-series Optical CMM. In basic terms these are accurate measuring systems that are used and manouvered by hand, and are easily transported by a single operator.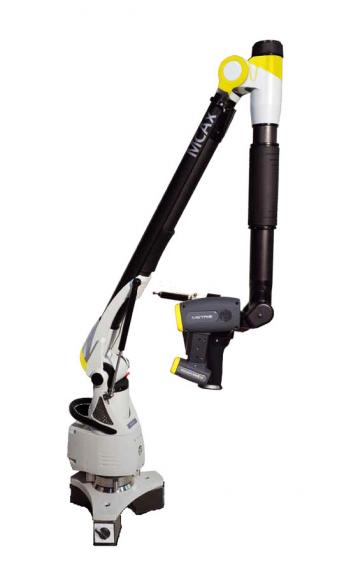 McAX Arm range
The MCAx Manual Coordinate measuring Arm is a precise, reliable and easy-to-use portable 7-axis measuring arm. It is the perfect partner for the ModelMaker MMDx/MMCx digital handheld laser scanners and Focus Handheld scanning and inspection software. This total solution's accuracy, capability and portability make it feel perfectly at home in the metrology lab, on the shop floor and in-the-field.
The MCAx arm can be equipped with a wide range of probing systems for laser scanning, touch-trigger measurements and continuous scanning. Its flexibility makes this measurement arm the perfect solution for the widest range of measurement tasks. The new 7-axis MCAx range of articulated arms is available with a measurement volume ranging from 2.0 and 4.5 meter diameter.
Key benefits:
High accuracy and fast data throughput saves time and money
Optimized for hard-to-scan surfaces
Designed for use under all shop floor or field conditions
Extreme temperature stability and zero warm-up time
Quick and easy plug-and-play setup
Short learning curve
On-board calibration storage
Scanner compatible with all major brands of portable localizers and point cloud software
No external controller
Automatic probe recognition
Enhanced ergonomics mean stress-free usage
Seamless transition between scanning and touch-probing    
Brochure
Brochure

MMDx-MCAx_EN.pdf
ModelMaker MMDx Scanning Head
The ModelMaker MMDx handheld laser scanners are ideally suited for portable 3D inspection and reverse engineering applications. Its camera technology is a major leap forward in 3D laser scanning, as it introduces a high frame rate and a large stripe width up to 200mm for ultra-productive scanning. MMDx incorporates Enhanced Sensor Performance (ESP3) to scan all sample materials and surface finishes in a single move.
Key benefits:
Faster and more accurate scanning saves money and time
Ergonomic, light and small scanner
Scans almost all industrial materials
Portable out-of-the box system
Easy and fast plug & play set-up
Designed for use in all shop floor conditions
Optimized for hard-to-scan surfaces
Brochure
Brochure

MMDx-MMCx_EN.pdf
H-120 ModelMaker Handheld Laser Scanner
More than two decades since the inception of the ModelMaker product line, the cutting-edge ModelMaker 
H120 firmly pushes the ever-exacting boundaries of handheld laser scanning. Incorporating blue laser 
technology, ultra-fast frame rate, specially developed Nikon optics and the ability to measure the most 
challenging materials this represents the next generation of portable laser scanning. The H120 makes no 
compromises in addressing the market needs by efficiently delivering the most detailed and accurate data 
in a fraction of the time of competing technologies.
Key Benefits
- EXTREMELY LOW NOISE DATA - Nikon lens combined with blue laser technology
- UNEQUALLED PRECISION  - Scanner accuracy of 7 microns
- UNCOMPROMISING PERFORMANCE  - Measures at over 450 stripes every second on all materials
- ENHANCED USER EXPERIENCE - Full Field-of-View indicator for precise scanning
- MEASURE THE MOST CHALLENGING MATERIALS - Real-time optimization of the laser for every single measured point
- OPTIMIZED FOR ALL APPLICATIONS - Designed for use under all shop floor or field conditions
- Applications 
- Fast & accurate multi-sensor 3D inspection
- Part-to-CAD inspection: First article inspection against CAD model
- Inspection of geometric features
- Gap-and-flush inspection
- Reverse engineering: from concept studio clay to class A surfaces
- Digitizing for additive manufacturing
Brochure
Brochure

H120 & MCAx.pdf
Specifications
Specifications
Min. point resolution
35µm
Max. points per stripe
2,000
Laser power adjustment
ESP 4 (real-time per point)
Laser power
Class              2,450nm
Field of view indicator
Full FoV
Arm attachment
Integrated
K-series: Optical CMM
The portable K-Series Optical CMM system forms the core of different metrology solutions. As it faces no mechanical constraints , users can freely walk around and measure points or scan surfaces as desired. The metrology area activated by the Optical CMM fits an entire vehicle and can be easily expanded. The Optical CMM is also suitable for measuring dynamic motion and researching transient events. Its third use relates to industrial robots. By tracking robot movement in real time, Optical CMM technology drives increased positional accuracy for robotized inspection and manufacturing tasks.
Key benefits:
Portable and mobile configuration offering easy setup and ergonomic operation
Full freedom measurements with walk-around SpaceProbe and K-Scan
Suited for lab, shop and field measurements
Large (17m3) and expandable measurement volume
Measurement object motion compensation through dynamic object referencing