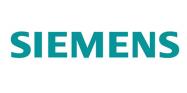 CNC Controls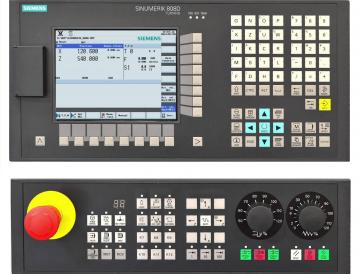 808D (Entry Level Control)
Thanks to its panel-based CNC design requiring only few interfaces and an operator panel with degree of protection IP65, the SINUMERIK 808D/808D ADVANCED is perfectly prepared for the use in harsh environments. With its small dimensions, it can be used on compact machines. At the same time, the SINUMERIK 808D/808D ADVANCED allows convenient operation with short-stroke keys and the well-known SINUMERIK softkeys.
Typical fields of application - Perfectly preconfigured for:
Basic standard machines with up to 4 axes/spindle in one machining channel
Inclined bed and flatbed CNC machines
Flatbed manual controlled semi-CNC lathes (Manual Machine plus)
Benefits
Simple and intuitive operator interface - thanks to dialog-based user support with SINUMERIK Operate BASIC
Wide range of technology cycles - for turning and drilling with graphical input screens SINUMERIK programGUIDE BASIC
High performance and precision - thanks to modern CNC functions
Connecting Machine Control Panel using a simple plug & play USB port - equipped with same ergonomically designed override rotary switches as in high-end CNCs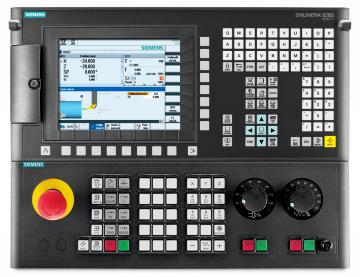 828D Basic ( Mid Range Control )
Turning and milling operations on standardized machines as well as functions for the easy automation of grinding machines – this where SINUMERIK 828D ADVANCED, SINUMERIK 828D and SINUMERIK 828D BASIC, with their unique CNC performance, set standards regarding productivity.
Due to the technology-specific system software, the field of application of the SINUMERIK 828 controls ranges from vertical and basic horizontal machining centers – including, of course, mold making applications – to flat and rotary grinding machines through to dual-channel turning centers with counterspindle, driven tools and Y axis.
Features
- Panel-based compact CNC
- Technologies: Turning, milling, grinding functions
- Up to 10 axes/spindles + 2 auxiliary axes
- Up to 2 machining channels
- 8.4" / 10.4" color display
- S7-200 PLC
Benefits
Rugged
An operator panel front made of magnesium die cast, the panel-based CNC design with well-conceived interfaces, as well as the high degree of protection IP 65 make the SINUMERIK 828 controls a reliable partner even in harsh environments.
Maintenance-free
Thanks to the configuration without fan or hard disk and the NV-RAM storage technology without back-up battery, the SINUMERIK 828 controls are completely maintenance free.
User-friendly
Thanks to a fully-fledged QWERTY CNC keyboard with short stroke keys and a high-resolution 8.4"/10.4" TFT color display, the SINUMERIK 828 controls can be easily operated. The USB, CF card and RJ45 interfaces on the operator panel front allow to quickly transfer the CNC data in an uncomplicated manner.
828D
The SINUMERIK 828D sets new standards of ruggedness and ease of operation in the compact CNC class. Even in the compact frame size, its state-of-the-art technology ensures the highest possible levels of precision and productivity. The performance of the SINUMERIK 828D is in a class of its own.
Coupled with the SINAMICS drive and motor system, the integrated SINUMERIK 828D really gets your machine tool going. Provides unparalleled potential for turning and milling workpieces more productively. With ShopMill/ShopTurn sequence programming, the SINUMERIK 828D boasts the most straight forward CNC program editor in the world.    
840D sl (High End 5-axis Simultaneous )
SINUMERIK 840D sl is with good reason considered as the measure in the CNC premium class. Utmost CNC performance as well as unreached flexibility and openness are the basis for nearly every machine concept.
Typical applications
High-performance milling and turning is one of the strengths of the SINUMERIK 840D sl. Further, the SINUMERIK 840D sl opens up a nearly inexhaustible technology range: From grinding and laser machining to gearwheel machining through to multitasking machining. With its superior system flexibility, the SINUMERIK 840D sl is the CNC of choice when opening up completely new technology fields.
SINUMERIK 840D sl - Overview of the technology
- Drive-based modular CNC
- Multi-technology CNC
- Up to 93 axes / spindles
- Up to 30 machining channels
- Modular panel concept
- Up to 19" color display
- SIMATIC S7-300 PLC    
Benefits
Modular and scalable 
In addition to a scalable NCU performance, the SINUMERIK 840D sl also provides excellent modularity of the operator components. With a flexible M:N operator concept – e.g. the combination of arbitrary operating fields with the NCU – the SINUMERIK 840D sl can be ideally adjusted to the operator philosophy applied by state-of-the-art premium machine concepts.
Benchmark in Open Architecture 
The open system architecture of the SINUMERIK 840D sl is unique. For example, the CNC can be optimally adjusted to the machine technology and shows a high degree of freedom in production automation.
Communicative at all levels 
With PROFINET, the SINUMERIK 840D sl is perfectly integrated in the Siemens TIA environment. Totally Integrated Automation stands for unrivaled total integration – from the field level to the production level through to the manufacturing execution level.