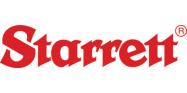 Video Measuring
Starrett MV300 Video Measuring System
The Starrett MV 300 system is a general-purpose manually driven video based measurement system, ideal for quality assurance, inspection labs, manufacturing, assembly and research facilities.
A precision mechanical bearing X-Y-Z stage and column, combined with Heidenhain scales, translates data accurately and repeatedly to the user friendly Metlogix M3 software, which is all stored and viewed on neat and compact all-in-one touch screen PC.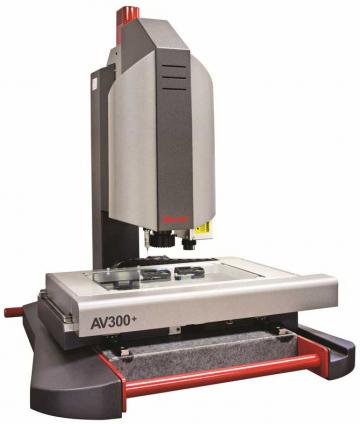 AV300 CNC Vision System
The AV300 CNC vision system offers 12" x 6" x 5.5" travel, Z-axis measuring, your choice of powerful MetLogix or Quadra-Check software control systems, 6.5:1 (optional 12:1) zoom optics and several LED or fiber optic illumination options. These systems are general-purpose CNC video-based measurement systems. Throughput is maximized with either QC5000 or Metlogix M3 software controlling all aspects of Video Edge Detection (VED) and multiple channel Fiber Optic or LED illumination. Available with an all-in-one touchscreen PC with MetLogix M3 DXF/FOV/CNC software, or with a desktop PC with an external monitor and QC5000 software. The M3 software supports 2D geometrical constructs (lines, angles, circles), while the QC5000 software also supports 3D constructs (inclined planes, cones, spheres). Starrett automatic vision (AV) systems are ideal for quality assurance, parts inspection, and production runs. Flexible and powerful the AV series allows users to cost effectively achieve maximum throughput of their inspection process, allowing measured data to be effectively archived or networked to other devices. Also see our multi-sensor metrology systems, which can provide vision metrology operation with travel up to 50" x 36" x 8" (1270 x 915 x 200 mm).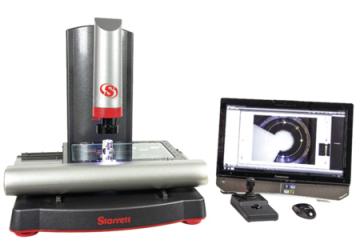 AVR300 CNC Vision System
The Starrett AVR Series CNC automatic vision metrology systems are ideal for repetitive measurements and automatic comparison to CAD files. They are available with dedicated 6.5:1 or 12:1 zoom optics or a quick-change bayonet lens mount which accepts a choice of six interchangeable telecentric lenses for micron-level resolution and optical distortion down to 0.001% for accurate field-of-view (FOV) measurements. The FOV can encompass an entire small part up to 2.00 x 1.50" or a feature of a larger part and be seamlessly integrated with stage motion to measure parts with a length up to 8" (AVR200) or 12" (AVR300). Systems are also touch probe compatible. AVR Series hardware features include a granite base for maximum stability, recirculating ball linear guides for smooth and precise stage motion, and full CNC control for high throughput. All electronics other than the PC are housed in the Z-column, ensuring an integrated system with minimal external wiring.
Shadow Graph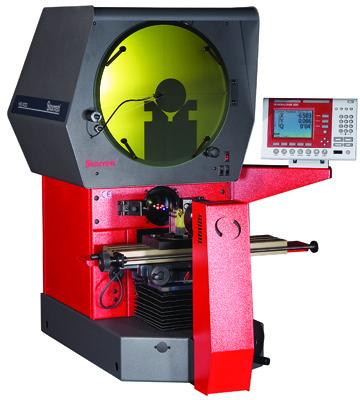 HB400 Horizontal Benchtop Optical Comparator
Features & Specifications
Available with a choice of a MetLogix M2 or several Quadra-Chek control systems
Distinctive new styling
Fully usable 400mm screen diameter
Large measuring travel: 300mm X-axis, 150mm Y-axis
Exceptionally stable, all metal construction for optimum performance and accuracy
High precision workstage with 540mmx127mm top plate, with two machine slots for easy fixturing
Stage weight capacity: 100 lbs
Quick action change lens system
5x, 20x, 25x, 31.25x and 50x lenses available
Dual mirror design for vertically correct image
Digital protractor for accurate angle measurements, 1' resolution
±15° workstage helix adjustment for accurate thread form inspection
Fine adjustment on all axes, plus zero backlash, fast traverse mechanism on the X-axis
Fully retractable fiber optic surface illumination with heavy-duty shielding
Automatic edge detection option
Motorized and CNC workstage options
Optional OV2 quick change video camera with up to 200x magnification text
VF600 Vertical Floor Standing Optical Projector
Fully usable 600mm diameter screen.
Screen angled at an optimum 30° to give bright, easily viewed image, and allowing easy tracing or overlay work.
Choice of two workstage size options with manual, motorised or CNC control.
Fast traverse, quick release mechanism on X and Y Axis.
Supplied complete with full canopy and curtains.
Single lens mount or 3-lens quick change turret using silo system for maximum lens protection.
Available with the full range of Quadra-Chek readout systems.
Electronic digital protractor.
Comprehensive range of multi-element precision ground lenses.
4Large range of accessories available.
4Lamp mounted helix facility.
Extrusion Checking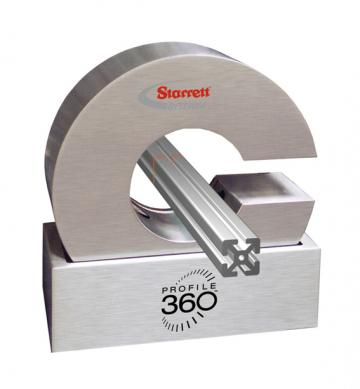 P360-10 Real-Time Profile Measurement System
Profile360 is an in-line, real-time measurement system for continuously monitoring key profile dimensions in complex shapes such as rubber, plastic, ceramic, and wood-plastic composite extrusions, roll-formed metal profiles, and profiled wire. Profile360 employs CrossCheck laser line sensors manufactured by Bytewise to acquire thousands of data points around the profile and match them a CAD template where key measurement parameters such as width, thickness, radius, and angle are extracted. Measurement parameters are compared to allowable control limits and displayed on the operator's terminal with a green/yellow/red (pass/caution/fail) status indicator. Profile360 runs at rates up to 14 profiles per second. Profile360 is available in sizes of 10mm, 25mm, 50mm, 75mm, 100mm, 150mm, all with circular field-of-view. Custom systems can be built up to 500mm.
Features
- C-Frame Design provides the user to install and remove the system without interrupting production
- Run Mode feature allows the system to be run continuously at a clock frequency or be triggered from an encoder or relay contact
- Communication Interface communicates measure values to external systems by Modbus TCP or OPC Server
- Analog Output Option streams analog measure values to external systems
- Alarm Option features an alarm via red/yellow/green light tower with horn
- Support Rollers support extrusion through the measurement system to prevent profile distortion
- Light Shroud feature prevents measurement error due to light interference
- Rotatable Sensor Head rotates the sensor head to an optimum viewing angle for each profile
- Angle Indicator permits accurate alignment of rotatable base to profile
- Drain Holes permit drainage of water from sensor head
- Stainless Steel Construction ensures reliable service and long product life in harsh environments
- Registration feature provides fast and easy automatic calibration and alignment checking
- Optical Comparator Display compares a measured profile to a CAD template same as a 10X Optical Comparator
- Caliper Tool Bar measures thickness, width, angle, radius, radius center point, bump, link, line regression, and formula
- Matching feature compares a measured profile to the design template (CAD file)
- Multiple Profile Matching automatically matches multiple profiles that move independently
- Sub-Region Matching matches partial segments of flexible profiles to a CAD template independently
- Measurement Display displays real time value, trend chart, Cp, cpk, mean, and histogram
- Data Logging records all measurements to a data log file
- Report Printing feature prints a Quality Report for each run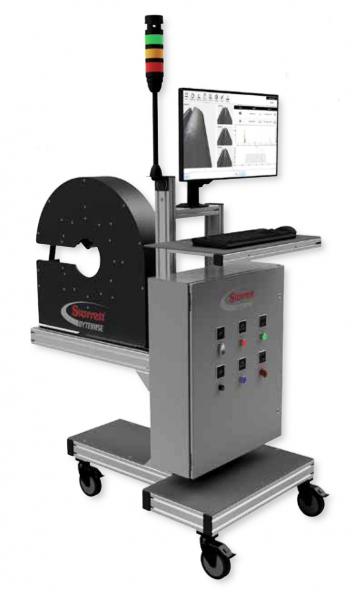 Surface 360 - 3D Surface Flaw Detection System
Surface360 from Starrett-Bytewise is a breakthrough in surface inspection technology. Surface360 is an inline inspection system that digitizes the extrusion and measures the true surface geometry in real-time.
Surface360 delivers an exciting alternative to existing technology. It is built upon the industry-leading high-speed laser triangulation capabilities of Starrett- Bytewise's profile measurement platform, Profile360. Because most surface defects in extrusion are actually small deformations, indentions, or protrusions of the profile, the method used by Surface360 results in more accurate detection of surface flaws.
- High-speed laser triangulation
- Inspects geometrical deviations
- View 3D image in real-time
- Detect flaws down to 0.5mm
Profile 360 Industrial Mobility Package
The Profile360 Industrial Mobility Package has been employed by large extrusion operations during line set-up so that one unit can serve multiple lines. The in-line measurement provides instant information to help the operator tune-in the extruder, calibrator, and down-stream equipment, and to assure all dimensions are stable before moving on to the next line.